Due to high demand, please call us at 850-501-0443 for current in stock inventory available for immediate delivery.
Some images may be sold and represent past electric bikes in stock. Please feel free to email us at info@electricbikesofflorida.com
Frequently asked questions
Does the Bike Arrive Fully Assembled?
---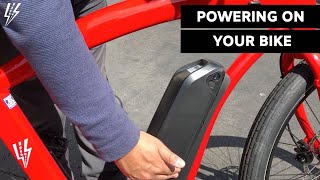 Yes! The bike arrives fully assembled in box
---
How to Increase Battery on My Bike?
---
#1. Fully Charge Your Battery Before you package and store your battery away it is vitally important that you have your battery fully charged. This is meant to check the flow of electrical currents through all the batteries cells. Charging often (but not overcharging your battery) will optimize your battery's charging cycles. #2. Turn Off the Master Switch Another important tip before storing away your battery is to make sure that you switch off the master switch which is found at the back of the bike. This will prevent the battery from draining over time and therefore increases the lifespan of your battery. #3. Store Your Battery In a Temperature Neutral Environment It is also important that when you plan on storing your battery that you put it in an environment that is not subject to drastic changes in temperature. If a battery is stored in any sort of extreme temperature it can cause issues with chemical reactions within the battery and therefore tampers with its long term functionality. Safe travels & happy riding,
---
What is the Tire Comparison for the Bikes?
---
At the Electric Bike Company we place priority in building our bikes with the highest quality products and materials, this includes everything from our hand stitched handlebars all the way down to our choice in puncture resistant tires. So to ensure that we live what we preach, we have developed a new tire that will be featured on our Model R (2020) and stacked it against the top 5 leading tire brands in the market, which include Kenda, Maxxis, Schwable, and Continental to see if these tires lived up to their claims of being "puncture resistant". Watch the video below to hear our reviews on each brand and to see which tires reigned above the rest.
---
How Do I Clean My Bike Parts?
---
For those of you who are brave enough to ride in unpredictable winter weather and embark on new journeys with your e-bike, we thought it was important to address the upkeep and maintenance of bikes that are exposed to various elements. One of the benefits of the Electric Bike Company models is that our bikes are very low maintenance as they are built with high quality rust resistant stainless steel parts. With that being said it should be noted that we do not suggest riding your bikes in extremely wet weather as while the water would not damage the paint or the bikes hardware it could seep into electrical components and disturb the bikes ridability. If you do elect to ride during rainy or damp weather, we suggest that you wipe down your bike with a dry cloth after each use and inspect your tires for debris that can cause punctures. Our final suggestion to riders that are traversing in winter conditions is to periodically clean your bike chain as element like mud and rain can affect the performance of your drivetrain. For more information on how to maintain the quality of your bike, take a look at our Youtube video on E-Bike Longevity, in which Sean explains why we choose to use higher quality parts in our builds.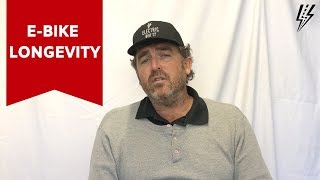 ---
How are the Bikes Packaged?
---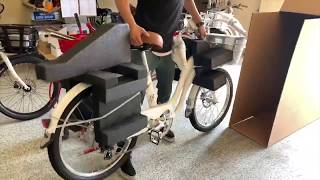 ---
Do the Bikes Come With LCD Screens?
---
Yes! An additional option you can have on your bike is for a LCD screen in the front. View our video below for a little bit more information on this feature.
---
How Do I Power On My Bike?
---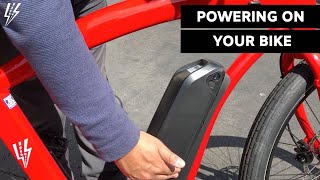 ---
How Do I Register My Bike?
---
---
How Do I Program Cruise Control?
---
---
How Do I Power On My Bike?
---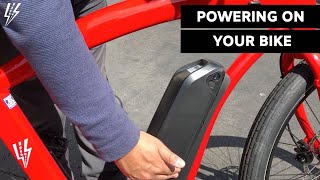 ---
How Do I Change My Back Tire?
---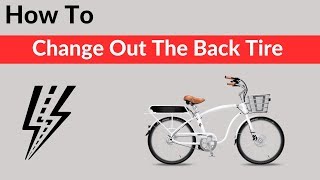 ---
How Do I Adjust My Seat & Handlebars?
---
---
---